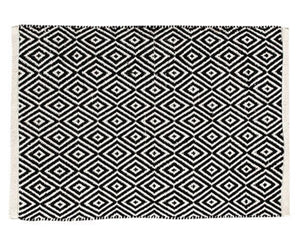 Black diamond modern farmhouse accent rug
Modern farmhouse geometric accent rug

This hand-woven mat is perfect for adding a trendy piece to an entryway, both indoors or outdoors. It has a black and white geometric diamond pattern. It is trimmed with a white border.

Materials:
Cotton, polyester blend

Dimensions:
23" long x 36" wide

Rug care:
It can be cleaned by a vigorous shaking or in the washing machine on gentle cycle. It should be laid flat to dry.

---
We Also Recommend